Free Tooth Extraction – UPDATED 2023 – Get Tooth Pulled For Free!
Cost is the primary reason why most people stay deprived of regular and timely dental care. A dentist can charge a few hundred bucks for a routine examination while the cost can go up to several hundred dollars for filling cavities. A great solution is to find low-cost or free dental care alternatives that give you access to high-quality dental service without having to break the bank. In this post, we discuss free tooth extraction options to help you get your dental concerns on time.
Charges for dentures and extraction can reach a lot higher, almost unaffordable for many. If you are unemployed, retired, lack dental insurance coverage or have a small income, these costs can keep you from visiting the dentist for checkups and dental problems.
However, not paying a timely visit to the dental clinic can bring unwanted consequences and affect your oral as well as overall health adversely. According to a report, poor oral health in people over 65 can increase the risk of stroke, respiratory infection, heart disease and other problems. What more, ignoring the dental issue can make it worse with time, and you can end up spending more in the long run.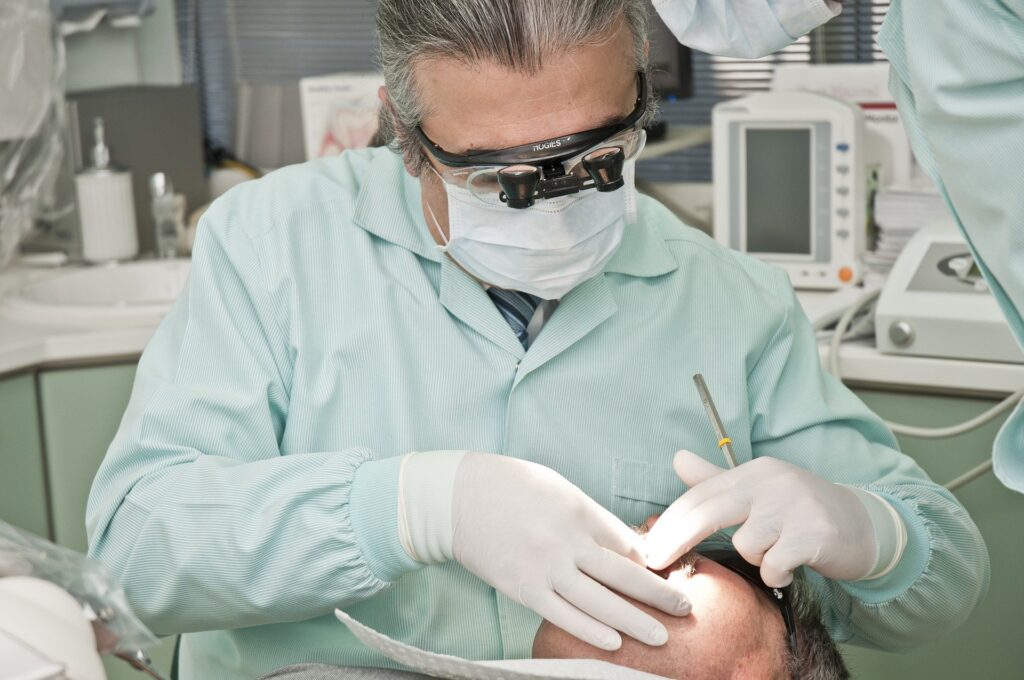 Free Tooth Extraction – What You Should Know?
Charities
The mission of Mercy
The Mission of Mercy is a program run by the Oklahoma Dental Association of dentists offers free dental treatments to people who are not insured or don't have access to dental care. The program holds an event where patients undergo screening to find the dental needs after which a treatment plan is devised. Patients are then sent to appropriate clinic areas, including extractions and oral surgery.
Dentistry From The Heart
Dentistry From The Heart is another non-profit organization that offers dental care to those in need. Hundreds of events take place every year across countries.
Get Tooth Pulled For Free
Public Dental Clinics
Run by state or local health departments, these are an excellent option to get your tooth pulled for free. They are taxpayer-funded clinics that operate on funds provided by the government. Most of them offer free dental exams, X-rays, cleaning, crowns, fillings and tooth extractions.
Dental Schools
Another great way to get a free tooth extraction is reaching a dental school. There are a few dental clinics in every state with students who practice their skills before joining the profession. Dental schools run clinics where patients can get services at affordable prices. Experienced dentists supervise these trainees as they treat you.
Free Emergency Tooth Extraction
Free Dental Clinics
A number of charities, professional organizations and faith-based groups get involved in donating dental services to the needy. You can keep track of such clinics in your state to get an emergency tooth extraction for free.
Donations
National and state charities use funds to provide services to people with medical conditions. Three federally funded programs run in the country are:
Medicare is an insurance program for senior adults with disabilities. This program covers some dental procedures as well.
Medicaid is a program run at the state level to provide medical benefits, including tooth extraction to eligible individuals.
*How to qualify for both Medicare and Medicaid? Some of you can get benefits from both Medicare and Medicaid at the same time.
CHIP is dedicated to helping children under 19 without insurance cover. It offers dental services as well.
Free Dentures With Extraction
Private Dentists
There are dentists who may handle a few cases for free every year. You can get such benefits to get your free dentures with extraction with the reference of another dentist who may wish to help you. If you visit a dentist regularly and need a treatment that you can't afford, talk to him about your situation, and he might help.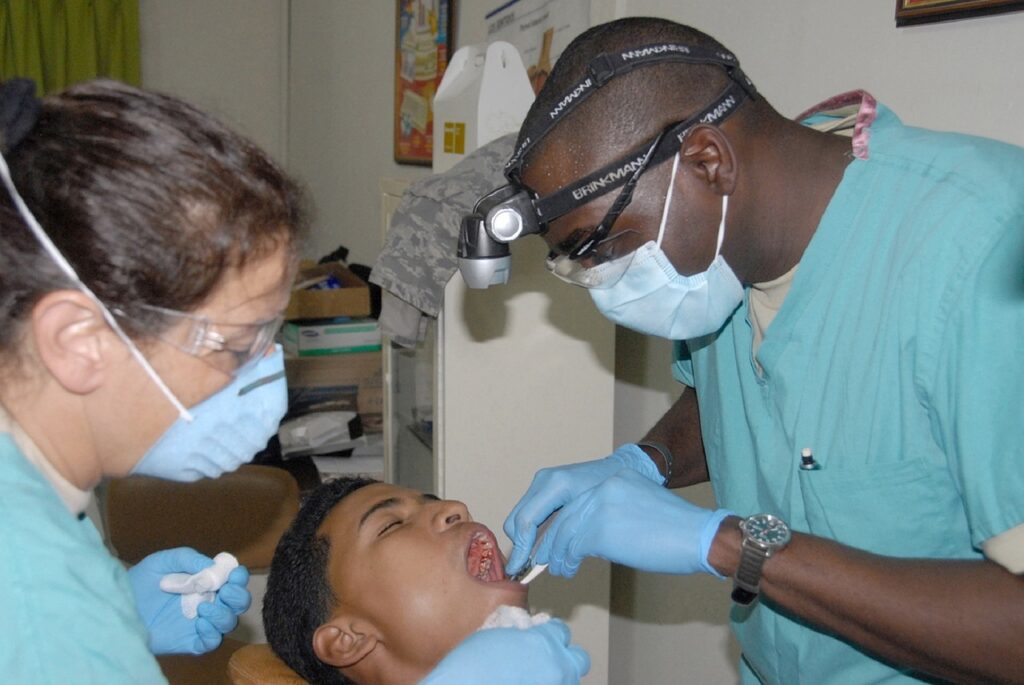 Non-Profit Clinics
Certain cities across the country have private dental clinics dedicated to helping people with no insurance or low income. Such clinics are often served by volunteer specialists and dentists who provide a complete range of services without any cost. You can find the list of such clinics by referring to a local directory or website.
MobileSmiles Oklahoma is one such non-profit dental care program that provides access to dental care with the help of volunteer professionals. They use RV-style dental units that travel across the state to provide free dental care. They serve patients recommended by local non-profits, churches, schools and agencies.
Free Wisdom Teeth Removal
Wisdom tooth removal is a critical procedure that involves x-rays and even surgeries. The cost of getting your wisdom teeth extracted can be quite high. But there are some options you can try to get your dental procedure done for free.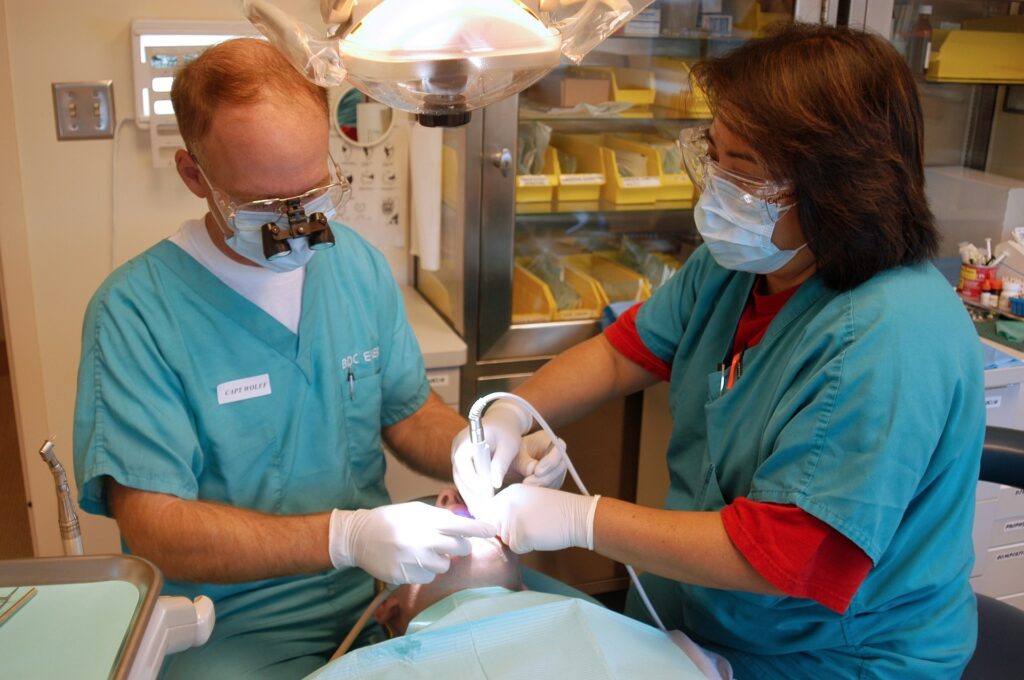 Clinical Trials
Some research agencies may sometimes involve volunteers for research studies in dental and other areas. These clinical trials can give you a chance to get your dental treatment done for free. Researchers provide participants with low-cost or free treatments for the condition they are studying. You can access a list of such funded clinical trials and see if you qualify for any.
Health Plans
If you can't afford private insurance or dental treatments, you can register for a health plan offered through the state government.
The Oregon Dental Association is one such program that offers resources and options to help you find free dental care. You can sign up for the Oregon Health Plan that covers health insurance for people with low income. If you are eligible, you can avail free dental care, including wisdom teeth removal at a dental clinic near you.